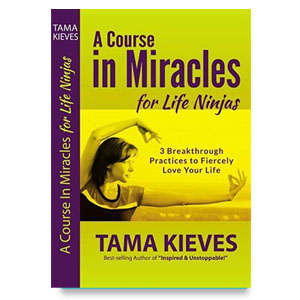 A COURSE IN MIRACLES FOR LIFE NINJAS
Special Edition Kindle eBook to help you choose who you're meant to be!
BOOK SNAPSHOT: It's time for you to know you are stronger, and more loved, than you could possibly imagine. A Course in Miracles for Life Ninjas is a powerful, black-belt mental training, all packed into one small book. It's a guidebook that will get you shifting within moments of reading it, and discovering a fearless love inside you that's driving you to be who you're truly meant to be…
This Kindle eBook covers:
3 Breakthrough Practices (taught from A Course in Miracles)
How to succeed in anything:  relationships, business, health, & true self-expression.
How to dare to become a Life Ninja & choose who you'll be in this lifetime.
Purchase from your favorite bookseller or:
"An extraordinary resource…this is my daily bible." – M. Marcus